MIT Engineer Re-invents the Weightvest
MIT Enginer Re-invents the Weight Vest
Author Maxim Frederick / Category Engineering / Published: Apr-05-2020
It was the last straw.. he knew there was something to be done.
Remy  just signed up for a gym membership was excited when he found a weight vest at this local gym. Unlike barbells and dumbbells, weight vests are basically never to be seen at gyms. So rare that in his 5 years of calisthenics training he never used one before.
However he quickly realized that this weight vest was terrible to use. The velcro that secures the vest no longer worked. In addition, half the pockets that hold the sand bags were broken and many bags were missing. 
At this point the weight vest resembled a weighted blanket. Just a few sandbags dangling off of his shoulders.
In addition there was no way to know the weight of the weight vest since the sandbags are arbitary.
Weightvest have always been lacking. In calisthenics, push-ups are one on the most basic and primary exercises. However they have been replaced with dips because  bodyweight pushups are too easy and weight vest are very hard to access.
After searching online for days he couldn't find a single well-designed vest. The truth is weight vests haven't been improved since the 1980. This was when the iron block weight vests were invented and ever since this was the best option that existed.
It was the last straw.. he knew there was something to be done. He knew there was room for improvement.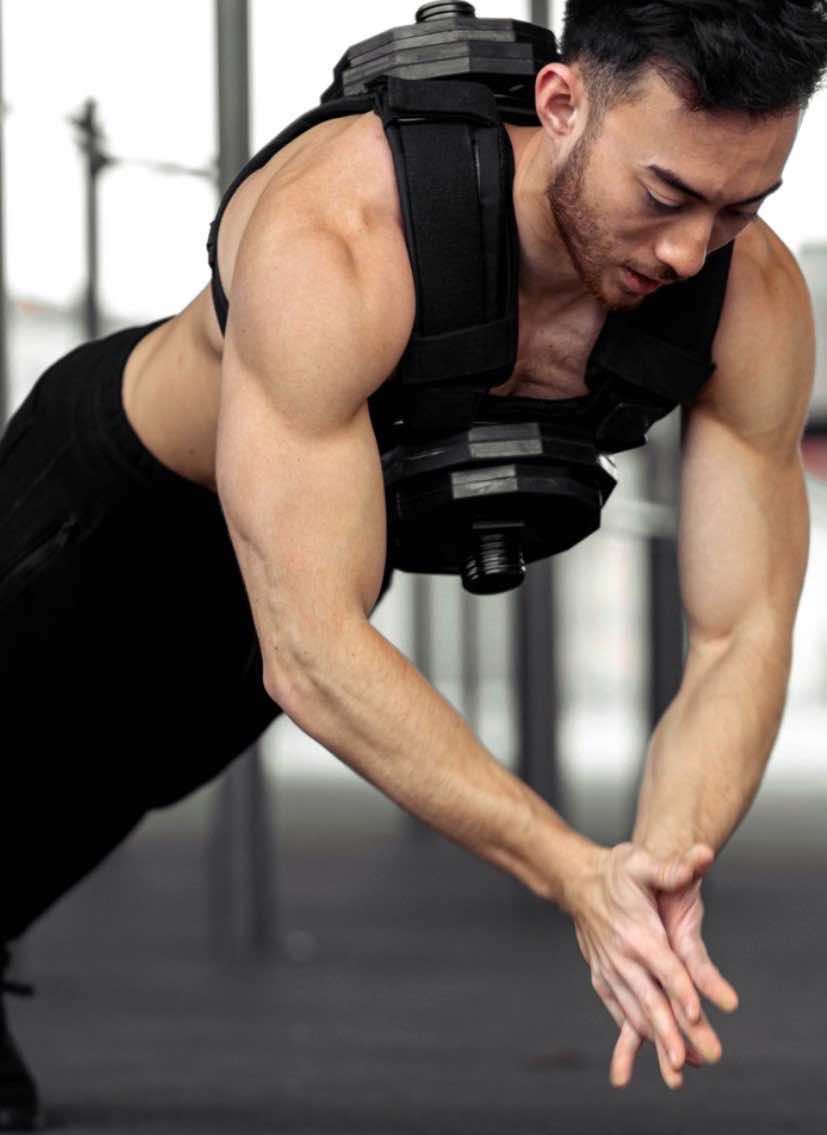 At this point the weight vest resembled a weighted blanket.
So Remy got to brainstorming and decided to design his own vest from scratch. He's been training calisthenics for over 5 years and knew every pain-point of the traditional weight vest and wanted to eliminate them all.
Remy who has two engineering degrees from MIT and was also an All-American Swimmer started calisthenics after he became a digital nomad and realized calisthenics allowed him to stay in shape while traveling.
After several months and hundreds of designs via rapid prototyping thanks to new 3-D printing technology, he came out with the final design that had perfect functionality and dimensions to fit the human body.
Remy wasn't originally planning on sell his design to the public. It was just for personal use. However after many of his friends asked for the vest as well as the people coming up to him at the gym on a daily basis asking where they can buy the vest. He decided to make it public.
Unlike previous vests that use arbitrary and customize weight blocks, the re-invented vest utilizes weight plates that already exists at the gym. This means the weight vest is portable! In addition, it is much better for the environment since there is no need to create customized weights.
He also wanted the vest to be made of premium materials. The padding shell is made of Ballistic nylon the strongest fabric in existence on the market, and the lining is made of machine-washable leather unlike traditional vests that just use polyester which fray over time. In addition, the straps are made of 100% cotton for optimum breathability and the metal plate is made of Aircraft grade aluminum.
The chest velcro straps are DOUBLE adjustable to allow for double the chest size variations varying from female gymnasts who are traditionally less than 100lbs to Olympia-level bodybuilders who weight closer to 250lbs.
Lastly, unlike most vests that cover the entire torso which greatly limits the range of motion, Remy designed the vest to only cover the chest to allow for easier breathability and movement.
the lining is made of machine-washable leather unlike traditional vests that just use polyester.

Did someone really just buy 6 vests?
The new vest was a hit from day one. Within a month, there were customers from all over the world that included Olympians, IFBB Pro athletes, College football coaches, MLB and NFL athletes, NBA coaches and many more. There was even an NHL coach that bought six vests. As of the time of this writing there are over 300 5-star reviews for this vest!
This vest is EVERYTHING! Well worth it's weight In gold! I highly recommend it. Thank you for the extra fitness challenge
— Vincent Lewis (Plano, US)
UPDATE: As of Saturday, August 22 2020 the EZ-VEST is $70 OFF. New Sale pricing starting at only $139

I really feel like everyone should have one! Weighted Calisthenics is the best of both worlds giving you the best part of weightlifting and calisthenics. This all-in-one device will allow you to do all the weighted calisthenics movements.
Furthermore it comes with not just a 100-day money-back guarantee but also a lifetime warranty!
EZ-VEST is on SALE today!